Louisville KY Court Reporters 
Louisville Kentucky Court Reporters | Louisville KY Video Deposition Services,  Conference Rooms & 
 Video Conferencing
312 S 4th Street, Suite 700 Louisville KY 40202

(502) 671-8110
T

aylor Court Reporting Kentucky
 provides 
Louisville Court Reporters  and Louisville
video
deposition services
, along with
Louisville Conference Rooms
and
High Definition Video Conferencing
, in downtown Louisville or the East End of Louisville.  Our 
professional
court reporters
 and
legal video technicians
serve both Louisville, KY and the surrounding
Jefferson County area
, as well as, Kentucky statewide.  You'll find our
fully-staffed deposition rooms
, conference rooms, and video conference rooms are attractive, comfortable, and conveniently located in downtown Louisville or East End Louisville.  You'll be close to the best hotels, restaurants, bakeries, and delis in town.  

We offer our clients:
Free Wi-Fi  

Discounted Hotel Stay

Complimentary Coffee & Beverages

Restaurants just steps away
With our 
forty-plus years of experience
, we bring the convenience of a one-stop approach to all your litigation needs.  Make one call to Taylor Court Reporting Kentucky and we'll take care of the rest.
Taylor Court Reporters Kentucky

 has 

meeting rooms and deposition suites around the state

 and we'll be happy to assist you in booking a meeting room or deposition suite.  Remember, with Taylor Court Reporters KY, there are NEVER ANY TRAVEL FEES.  So call us today for consistency in price, quality, and turnaround time.
Make one call to Taylor Court Reporting Kentucky and we'll take care of the rest.
Court Information
Louis D. Brandeis Hall of Justice
Jefferson County Judicial Center
Old Jail Building
Helpful Links
             
  Louisville, Kentucky Visitor Information
For more information on where to stay, where to dine and what to do in Louisville, please visit our

Louisville City Guide

.
Taylor Court Reporting Provides the Following: Deposition services, court reporters, legal video deposition services, conference rooms, interpreters, accurate and timely transcripts, exhibit linking, OCR exhibits, video-to-text syncronization. Taylor Court Reporting Kentucky is headquartered in Louisville, Kentucky and serves clients across the nation with  NO TRAVEL FEES.
Taylor Court Reporting Kentucky
Central Office Numbers

:
Telephone: (502) 671-8110
Facsimile: (502) 671-8116
Central Mailing & Billing Address

:
Taylor Court Reporting Kentucky
2901 Six Mile Lane
Louisville, KY 40220
Louisville Kentucky Office Address:
Taylor Court Reporting Kentucky
312 S 4th St #700
Louisville, KY 40202
Lexington Kentucky Office Address

:  
Taylor Court Reporting Kentucky
2333 Alexandria Drive
Lexington, Kentucky 40504
Contact us at:  (502) 671-8110
Whether you're staying in Louisville overnight or for the day, please checking our helpful listings below for Louisville hotels, Louisville restaurants, Louisville transportation, and general information.

 
Louisville, KY is on Eastern Standard Time and observes Daylight Savings Time.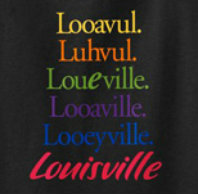 Hotels
Louisville, KY Downtown Hotels
Louisville, KY Airport Hotels with Shuttle Service
 

Downtown Restaurants
See

Yelp

for the latest recommendations and ratings.
Louisville Attractions
Louisville Fun Facts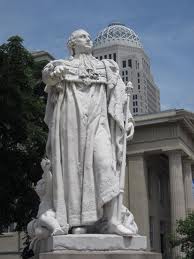 The

City of Louisville

was founded in 1778 by George Rogers Clark and is named after King Louis XVI of France. Statue of

King Louis XVI

at the corner of 6th and Jefferson Streets in downtown Louisville.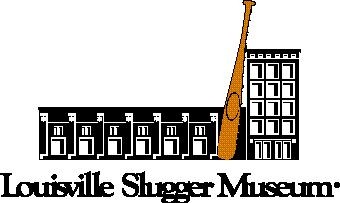 Louisville is home to the world's biggest baseball bat.

Louisville Slugger Museum

is located at 800 West Main Street in downtown Louisville.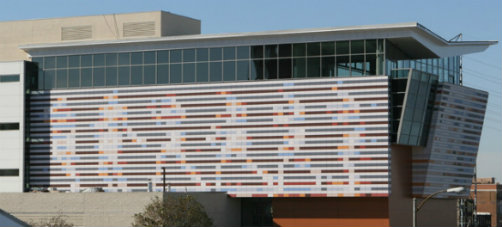 Muhammad Ali was born Cassius Marcellus Clay Jr. on January 17, 1942 in Louisville, KY.  The 

Muhammad Ail Center

is located at 144 North 6th Street in downtown Louisville.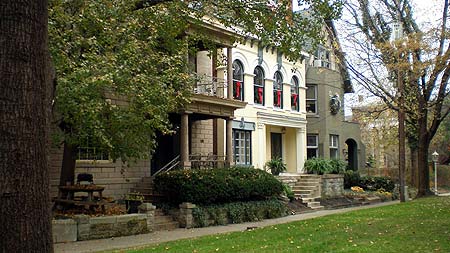 Near downtown, the

Old Louisville

neighborhood is the largest Victorian neighborhood in America.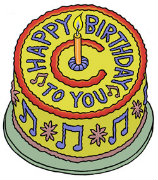 "

Happy Birthday to You

"

was written by sisters Mildred and Patty Hill in their Louisville kindergarten class. Originally called "Good Morning to You," it was later changed to this tradition birthday anthem.  Warner Music Group currently owns the copyright to the "Happy Birthday" song.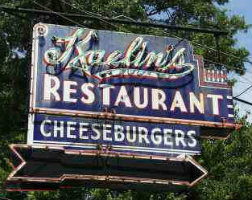 The Cheeseburger originated at Kaelin's Restaurant on Newburg Road. In 1934, Margaret Kaelin's husband asked her to put a slice of American cheese on his hamburger and the legend was born.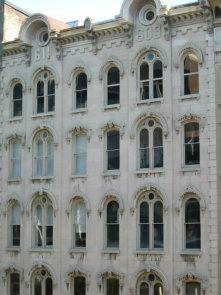 Louisville's Main Street

has the second largest collection of cast-iron storefronts facades, only New York City has more.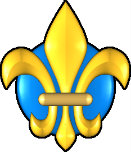 The Official Seal of the City of Louisville reflects its history and heritage – the

fleur-de-lis

represents French aid given during the Revolutionary War, and the thirteen stars signify the original colonies.